1968 RETROSPECTIVE CALENDAR
---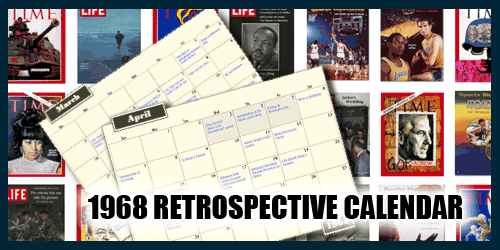 Click Here to download 1968 Retrospective Calendar
The calendar project was undertaken by University of Baltimore students enrolled in History 480:Introduction to Public History, taught by Dr. Deborah Weiner. The goal of the project was to providing context for the events of April 1968. Each student was assigned a month during the year and they were to locate articles on significant local, national, and international events.
The students who compiled the information for this calendar were: Steve Barrett, Daniela Fernandez, Keith Gavazzi, Chris Hipp, Duane Howard, Alexandria Hwang, Charles Lamari, kelly McPhee, Lynnesha Muldrow, Howard neugebaurer, Craig Swenson, Courtlon Ward, kim Wieber, and Michael Williams.
John Schwallenberg and Tom Hollowak used the students' information to construct the calendar, as well as finding additional material for inclusion, and technical assistance was provided by Robert Shindle.